How it works

Getting Started with Accarent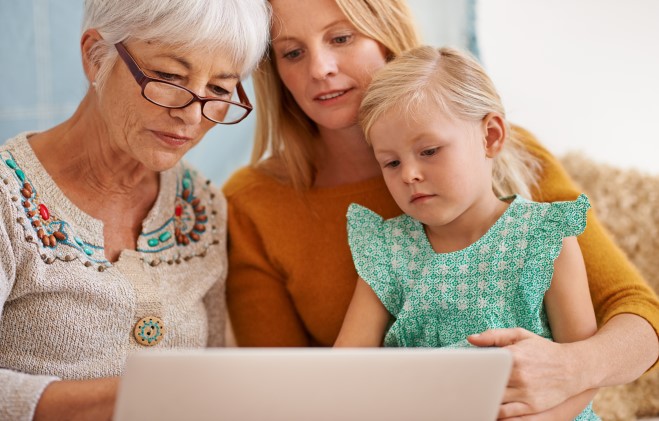 The Accarent Health web platform provides access to transparent pricing options and high-quality care providers, when considering a surgical procedure or medical treatment.

Our Program
How does Accarent Health work?
Register and log-in to gain access and browse the hospitals, procedures, prices and plan designs that are offered. Case managers will also be available to coordinate referral, consult and procedure scheduling with the hospital chosen.
Process Snapshot.
Search procedures and compare pricing
Register to become a user
Contact the Accarent Care Team at casemanagement@accarenthealth.com to register a patient, inquire about a service, or register a patient through our web portal.
Upload medical records
The hospital reviews the patient's medical records
A Case Manager contacts the patient to schedule either a consult or a procedure based on the medical record review
How do I get started?
There are three ways to begin the procedure search:
To search by procedure: begin with "Search Services".
To search by categories of offered procedures: begin by "Search Our Medical Care Specialties".
To search by hospital: begin with "Search Our Network of Providers".


Search Procedures and Compare Pricing: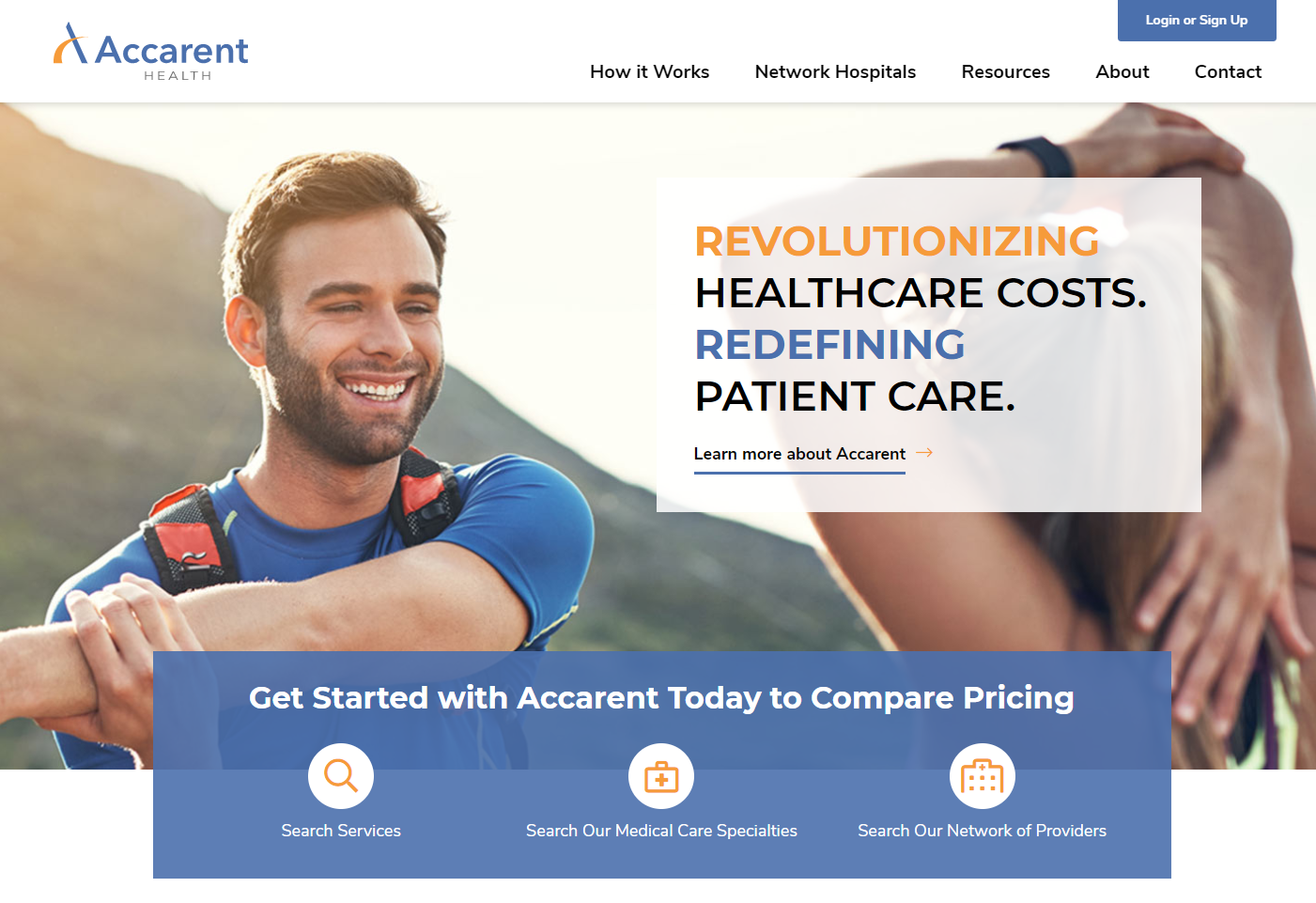 Search Offered Procedures:



Search By Hospital: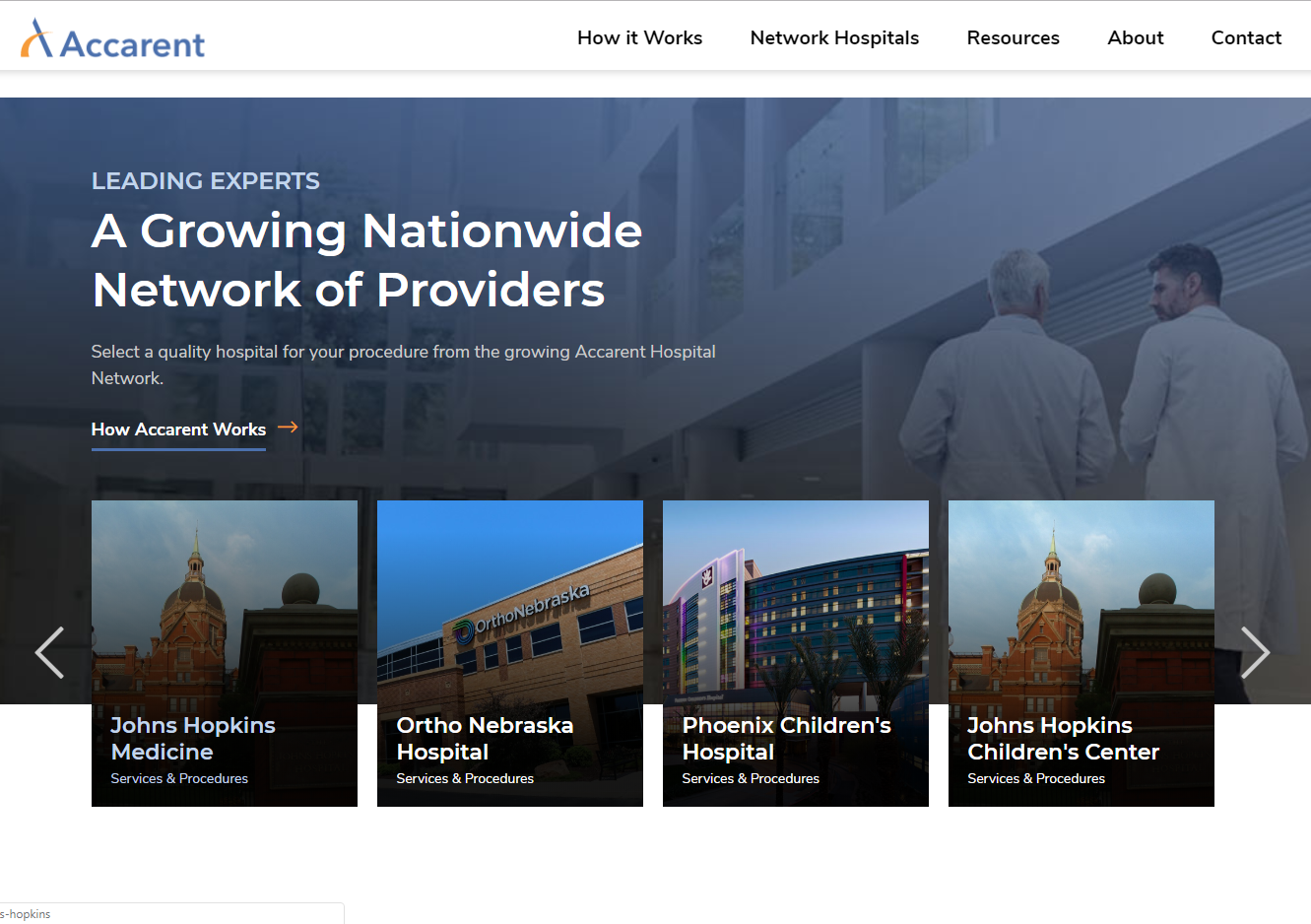 If you want to search by Procedure...
First select the Patient Type, either Adult or Child. The age threshold for adult or child may differ for each hospital.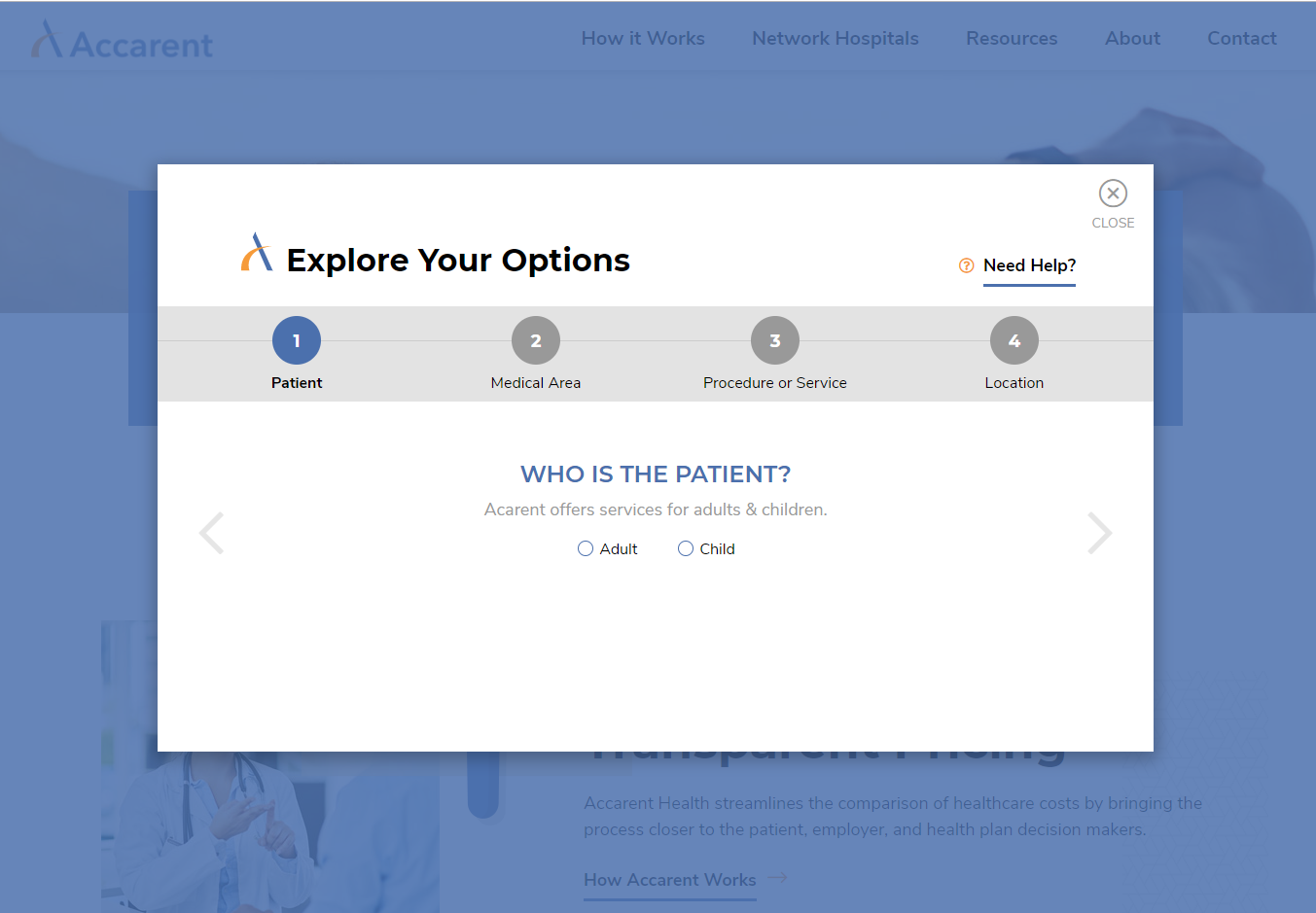 Next enter procedure type.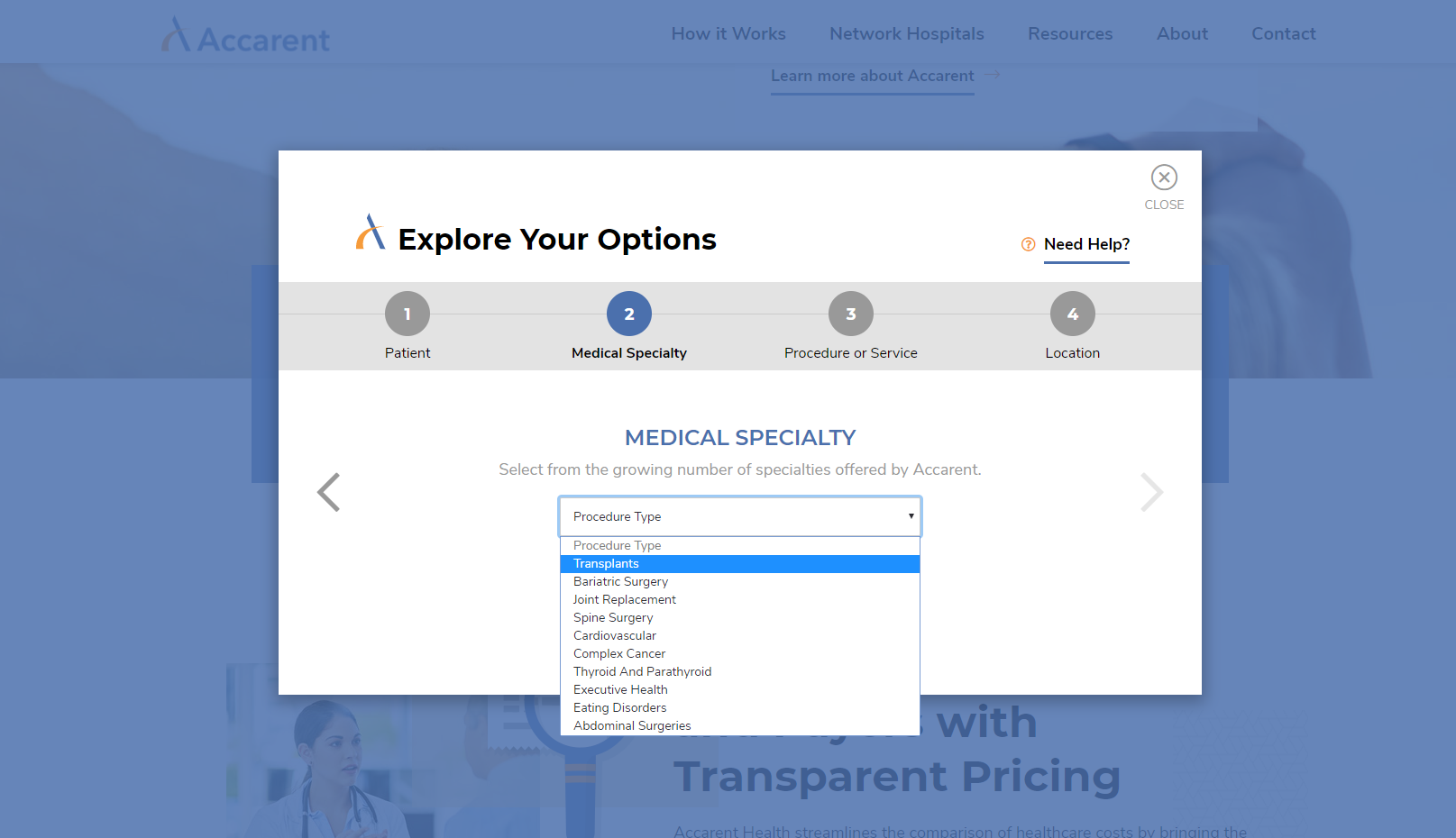 Next enter procedure code.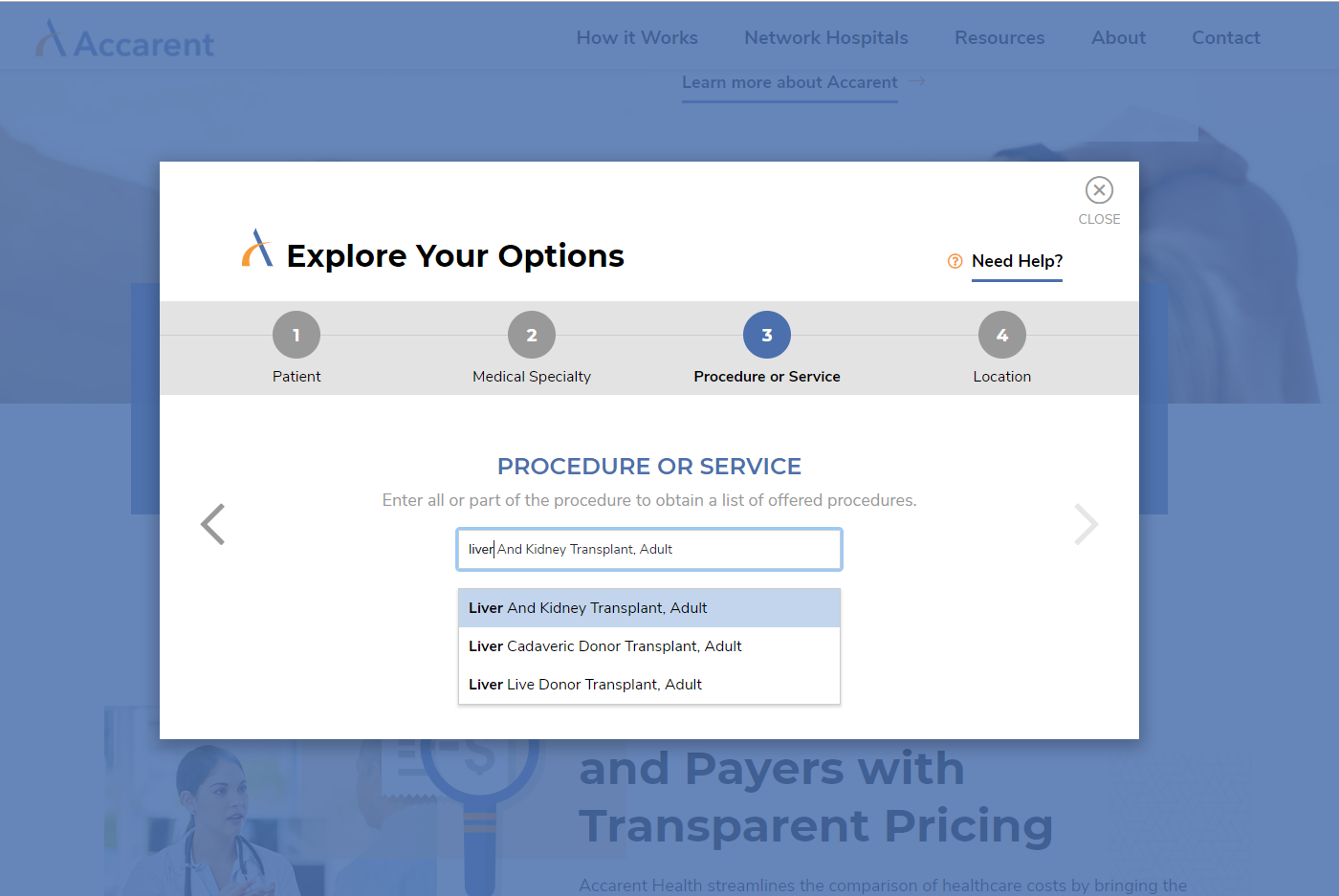 Next enter your location.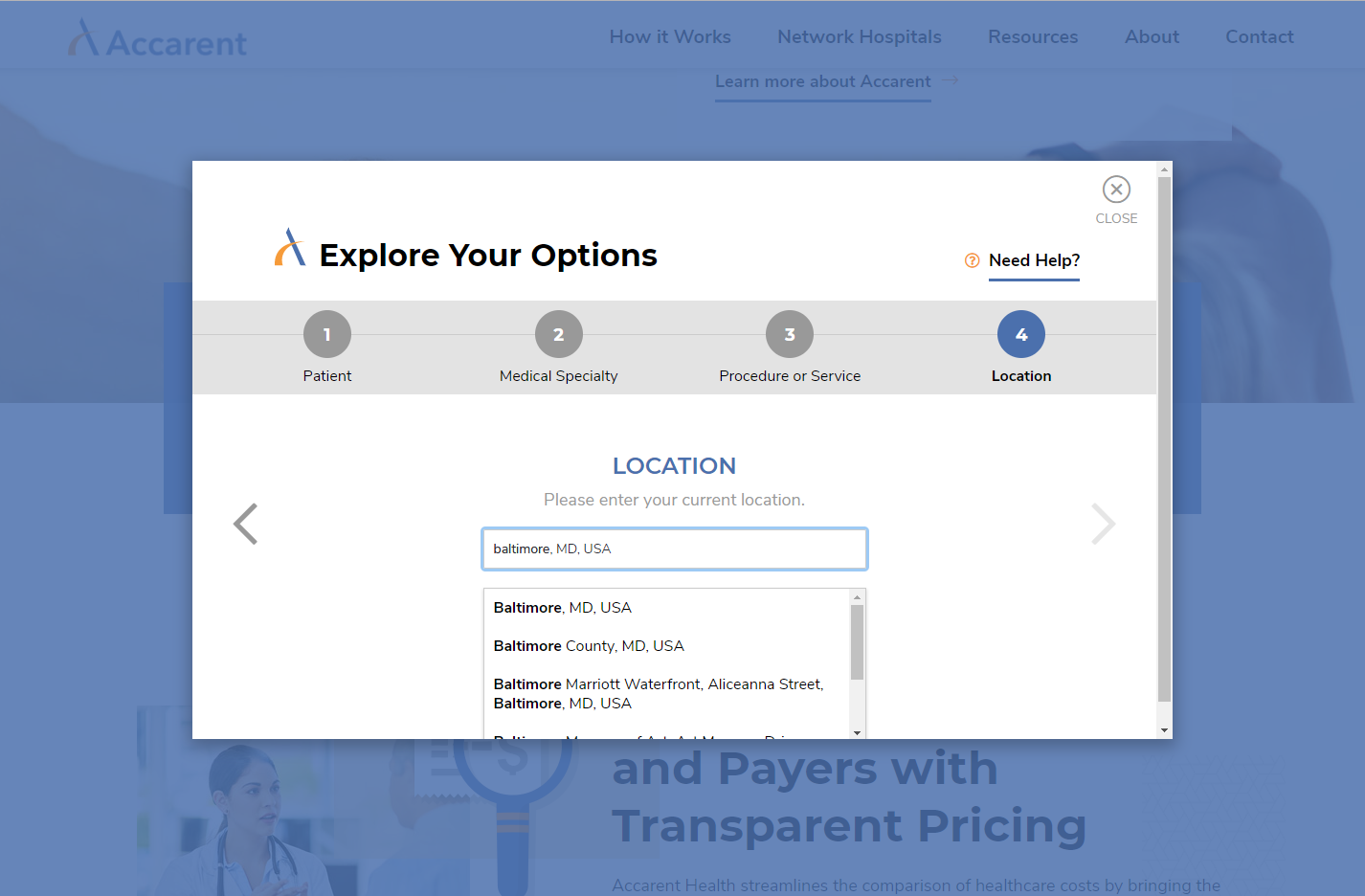 Next hit "Find Results".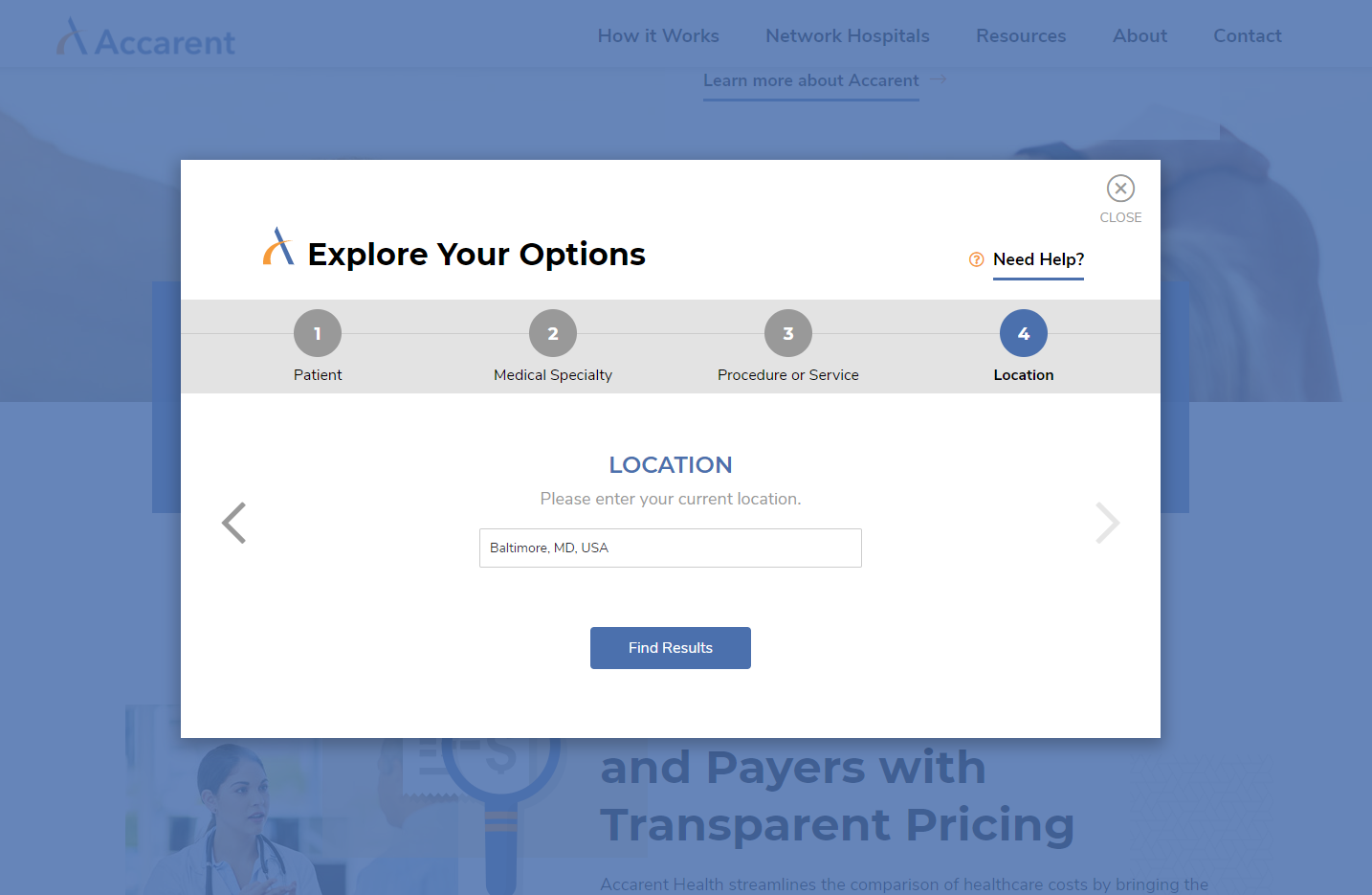 After user registration and login prices can be viewed.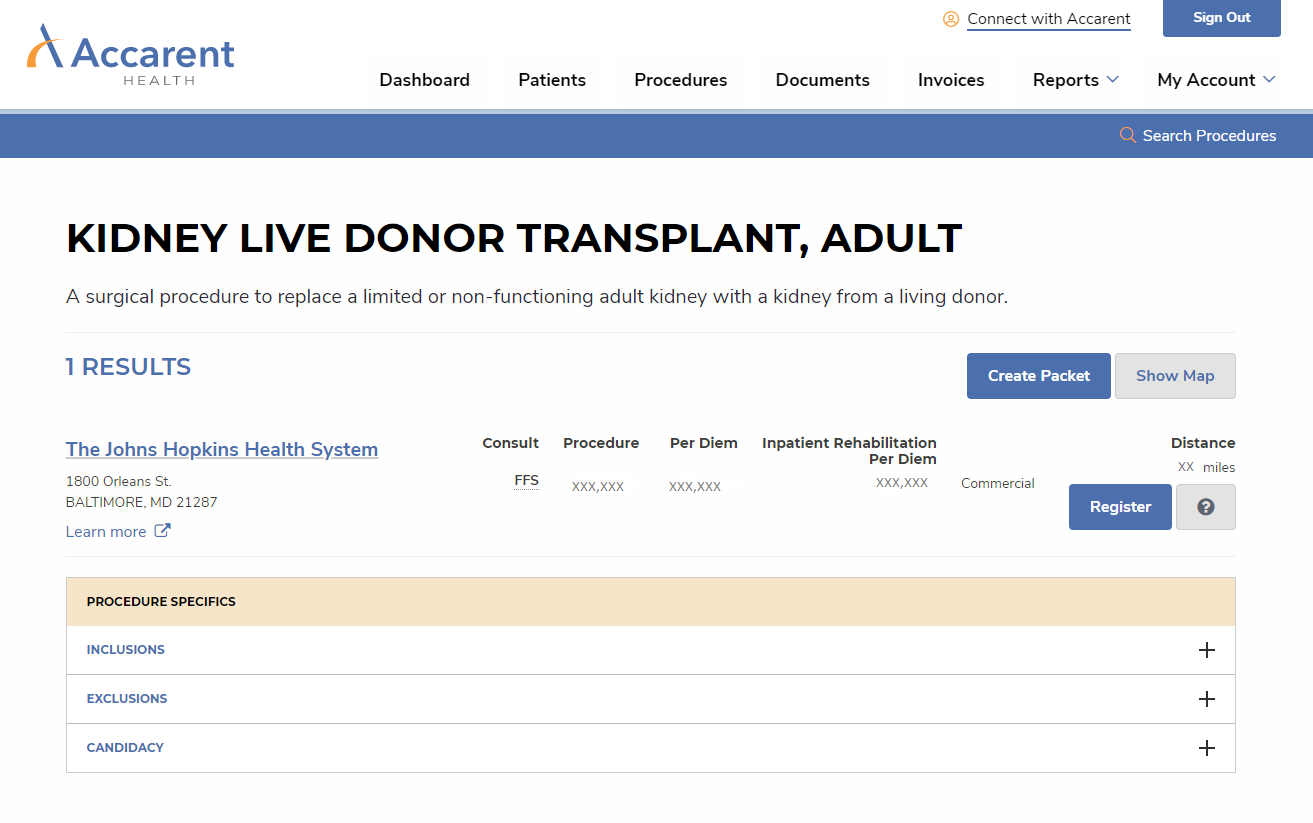 What procedures are available?
We currently have over 120 of the most common procedures offered by our hospitals across the country including: knee and hip replacement, spinal surgery and solid organ transplants. The offered procedures are located on the homepage.
New procedures will be added over time. If you are interested in seeing if a specific procedure will be offered in the future, please use our 'Contact' feature on our homepage. Once you submit your message an Accarent Representative will contact you.
Which hospitals are participating?
Here is a list of participating hospitals across the country. Do not see a provider of interest? New hospitals are continuously added to the Accarent network. Please use our 'Subscribe to our Newsletter' feature to receive the most current updates.
What are the credentialing criteria for the Accarent Network?
Network Credentialing is based on a combination of outside credentialing and rating agencies established in conjunction with Johns Hopkins Hospital. The quality standards are both a quantitative and qualitative analysis of those rating agencies combined with geographical criteria to develop a comprehensive national quality network.
I received a call from Tethys Health Ventures. Who are they?
Tethys Health Ventures is a network affiliate, in conjunction with Accarent Health, they will provide valuable case management, advocacy, and claim management services to you during your procedure.

Our Process
How will the hospital physician receive a patient's medical records?
Some complex surgical procedures require consultation or evaluation with the hospital where the procedure is to be completed. If previous medical records are available, they can be uploaded to a secure portal on the patient's profile or sent to a nurse case manager to assist with facilitation. Accarent will send the records to the hospital for physician review. Additionally, Accarent case managers can help schedule appointments for consultations, evaluations, and surgical procedures. They can also help the patient get in touch with the hospital directly to schedule care.
Where can I send medical records?
Medical records can be uploaded directly on the Accarent Health website, through a HIPAA compliant secure portal, within the patient profile. If you are unable to upload the medical records, you can fax to our secure fax number (410) 771-0696 or via secure email at medicalrecords@accarenthealth.com.
How does the patient get to the hospital?
Accarent's Care Team can help connect patients with lodging and transportation services in the area of the hospital selected. Please contact Accarent's Case Management Department directly via telephone at 1-866-771-0697 or via secure e-mail at casemanagement@accarenthealth.com.
Does the patient need someone to accompany them?
Yes! It is recommended a patient have a support person accompany them to their procedure.
Where does the patient stay during a medical consultation or evaluation?
Accarent's Care Team can connect patients with lodging options in the area selected. Please contact Accarent's Case Management Department directly via telephone at 1-866-771-0697 or via secure e-mail at casemanagement@accarenthealth.com.

Coverage
Does Accarent provide concierge service?
Accarent's Care Team can assist you with lodging and transportation provider information in the area of the selected hospital.
Is there a travel benefit?
There is a separate travel benefit for both the consultation/evaluation and the procedure. The travel benefit does not apply to the Executive Physical bundled rate services. The travel benefit is paid to the patient once the consultation, evaluation or procedure is completed. It is not necessary to send receipts to Accarent, to receive the travel stipend. The travel and lodging benefit reimbursement structure is as follows:
Consultation/Evaluation Travel Lodging Benefit - $500.00
All Surgical Procedures except Bone Marrow Transplants and Eating Disorder Procedures - $1,500.00
Bone Marrow Transplant Procedures and Eating Disorder Procedures - $2000.00
Does the patient need to save receipts to be reimbursed for the Travel Lodging benefit?
The Travel and Lodging benefit will be paid to the patient once the procedure has been completed. Accarent will send a check to the patient or guardian directly. Accarent does not require receipts to be sent for the payment to be released. A W-9 is emailed to the patient as part of a patient packet. This form will need to be completed and sent to Accarent to receive expense reimbursement. After the procedure is completed and claim paid, Accarent will send a check to the patient or guardian directly.
How will a patient know if they are scheduled for a consult?
The provider will contact the patient to schedule a time for consult. Please contact Accarent's Case Management Department directly via telephone at 1-866-771-0697 or via secure e-mail at casemanagement@accarenthealth.com, if the provider has not made contact.
How will a patient know if they are scheduled for a procedure?
The provider will contact the patient to schedule a time for your procedure. Please contact Accarent's Case Management Department directly via telephone at 1-866-771-0697 or via secure e-mail at casemanagement@accarenthealth.com, if the provider has not made contact.
What happens if a procedure has to be cancelled by the patient?
If a procedure has been scheduled and needs to be cancelled, an Accarent advocate will either be notified by the hospital or the patient. The Accarent advocate can assist in rescheduling the procedure at another time. Depending on when the procedure is rescheduled, the Letters of Agreement, eligibility check, and other patient documents may require re-verification. The hospital may request an updated consultation or evaluation.
If a patient has problems should they contact their doctor or Accarent?
If there are any emergent medical issues once the patient has returned home, a local physician or 911 should be called. If it is non-emergent, the patient or companion can contact their doctor directly regarding medical issues. If the patient has administrative questions or medical questions, an Accarent advocate can be contacted.
Who will be the TPA/ Health plan contact and the patient contact during the procedure event?
The assigned Accarent Care Team advocate will assist the patient through the entire procedure, and coordinate any follow up services and billing.
Will anything be different for the patient at the hospital check in?
The patient and companion will need to bring the signed Letter of Agreement or their Accarent Identification Letter along with their insurance card with them when checking into the hospital for the evaluation/consultation and surgical procedure.
Does the patient or employer receive a card from Accarent Health?
The patient will receive an Accarent Identification Letter. This letter will be presented at admission to help ensure proper billing. Patient name, procedure, hospital and Accarent Health information will be provided in this letter. The patient will also need to bring their insurance card.

Transition Home
What will happen if the services a patient needs are different than the procedure or services the patient expected to have?
Sometimes when a procedure is being performed, the surgery may require a deviation to the initial clinical pathway discussed during your consult or surgical evaluation in order to achieve the best surgical outcome. This is why the Accarent platform displays related procedures and the corresponding pricing. The Letters of Agreement your health plan administrator has signed on the patient's behalf includes pricing and plan designs for related procedures. Also, if an unexpected complication occurs, the Letter of Agreement includes negotiated discounts for services outside of the services in the plan design.
What happens if a patient has to stay in the hospital longer than expected?
Accarent case managers will continue to be the patient's advocate until the patient returns home and is transitioned back to their referring provider. Hospital stays extending after the length of stay in the plan design will be priced as stated in the Letter of Agreement.
Can you help with post procedure care?
The Accarent Care Team will assist as the liaison between the center and your insurance company for post procedure needs.
Will the patient's local doctors be notified of the procedure and outcomes?
Yes, the patient will receive a Patient Packet which will include HIPAA Forms and Medical Release Forms. Once this is completed, signed and returned to Accarent, your patient advocate will have the information needed to share patient information.

Payment Information
Will a patient ever be balanced billed?
Accarent has negotiated rates and plan designs with the network hospitals for the procedures shown on the website. The patient should not be billed for any of the negotiated procedures beyond normal out of pocket payments.
Who pays the hospital and the physicians?
Accarent Health is billed directly for the procedure from the hospital and will receive all claims. Accarent will then collect payment from the patient's insurance carrier or plan administrator once the procedure has been completed. Accarent then pays the hospital and physicians directly for the bundled rate.
Does Accarent accept care credit or credit cards?
An ACH transfer or check are the currently accepted forms of payment for the procedure.
How does Accarent Health coordinate with insurance carriers?
Accarent Health provides patients and payers access to the Accarent Health Network website which publishes our negotiated prices with the participating hospitals upon registration. Once a patient has registered, and a procedure and hospital have been chosen, insurance eligibility will be verified by an Accarent advocate and the patient will be approved to begin the process.
Will the patient have any out of pocket costs associated with the procedure?
Everyone's insurance is different. A patient will need to check with their insurance benefits or plan administrator to determine if they have any out of pocket payments, deductibles or copays.
How does the Accarent payment work with a patient's deductible?
Accarent is no different than any other network or insurance carrier negotiated rate as far as deductibles and copayments are concerned. The insurance carrier or hospital may ask for those payments. A patient should contact their employer or insurance carrier for any additional questions regarding specific out of pocket limitations.
How can I provide my employees access to this network?
There are two options, an employer can send the Accarent Health link to their employees and allow them to manage their own procedures, or designate a plan administrator to manage employee accounts as needed.
Can a patient pay for the procedure themselves?
Yes! A patient can register for a procedure. The bundled payment will be requested and must be paid prior to the scheduled procedure date. If the procedure is cancelled the payment will be returned.